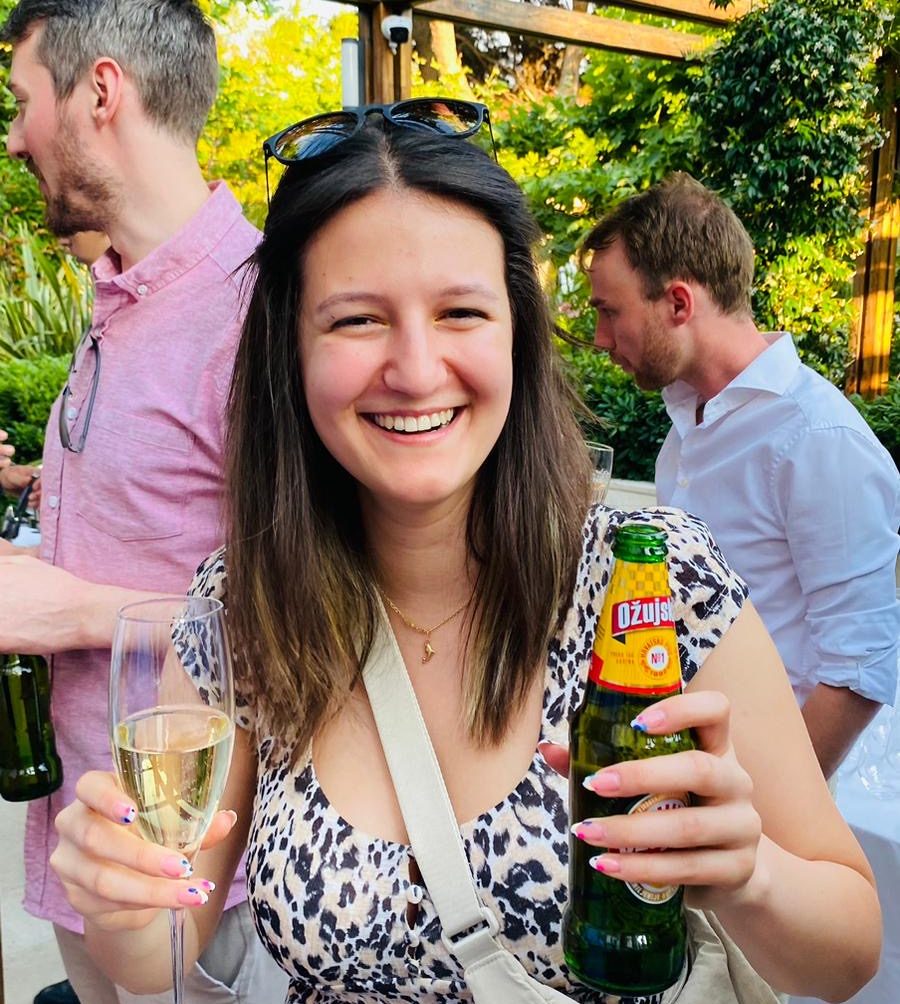 Today, we've got an exciting and unique story to share with you. Meet Nicki, the rising star at AMCO Solutions, a company that dives into the world of finance systems consulting. But here's the twist – Nicki's path to becoming a finance tech consultant was far from conventional!
Join us as Nicki spills the beans on how she went from studying International Security to conquering the world of finance tech with AMCO. Oh, and did we mention the friendly and supportive culture that makes AMCO stand out?
Let's dive in!
Can you tell us briefly about you and the path that led you to your career in AMCO Solutions? 
Hi, I'm Nicki and I've been with AMCO for 9 months now, first as a Trainee Consultant and now on a Consultant level. My journey to finance systems consulting was not what would be considered typical. During my undergraduate degree in International Business at Loughborough University, I did a couple of technical modules, not many in finance, and then progressed on to a master's degree in International Security, again at Loughborough. When I saw this graduate opportunity, however, I thought of how much I enjoyed the technical side of a module I did in ERP systems, as well as courses on Business Programming and Technology in Business. Not that anyone is a big fan of interviews, but before I went for the assessment day, I was a ball of nerves. What gave me a great impression of AMCO was that once I got there, the nerves just disappeared – everyone was super nice. In my search for a role after university, among the most important things such as opportunities and support, I have always thought that a friendly environment is a non-negotiable so this really sold it for me!
What is the company culture like, and how does it resonate with your own values?
AMCO nurtures a culture of openness, togetherness, and care for each other – listening to and valuing every opinion. This was something I was very hopeful to find when I was looking for a job after university because, at the end of the day, you spend a lot of time there! It was important to me that I worked with good people who were passionate about what they do.
Also, knowing that consultancy can be challenging, it was important to me that I am able to approach people, have discussions, and ask them questions freely. At AMCO, it is actually actively encouraged that people go out and ask as many questions as possible. It definitely helped having access to senior consultants with some of the deepest knowledge in the industry on my team.
What has been the most exciting part of your experience as a graduate trainee here?
As a trainee with no finance background and minimal technical experience, everything has been a massive learning curve for me. Sometimes that can feel overwhelming, but I strongly believe that reframing that feeling into something positive can make a world of a difference. Of course, whilst it is challenging, there were structures in place from the very start to support my development through moments like this.
So, I try to come in every day with the mindset that I am excited to learn something new, whatever it may be, and see how this new knowledge can be applied to the work I do.
How has our graduate trainee program helped you grow professionally?
The trainee scheme has been a fantastic bridge between university and work life – it provided structured training, mentorship, and opportunities to learn so much from day 1.
In my 9 months here, I feel like I have already developed so much – not just on technical skills which has been my main focus, but also on further developing interpersonal skills. Specifically, I have definitely learned to communicate better and to be more organised – it can be easy to fall behind so keeping track of tasks is key.
AMCO also supports the completion of the CIMA Accounting Foundation. So, alongside project work, I have been spending time studying to pass finance exams.
Can you share a specific project or assignment you've worked on and how it has improved your skills?
The first project I worked on was a dashboard to view and interact with the KPI's of a large Veterinarian company with 400+ practices – I could explore all the OneStream dashboard features and components, collect feedback from the client, and present the final result. OneStream is a powerful tool with a huge breadth of capabilities, so it was nice to be able to focus on one area as a start before moving on to learn about other solutions in the system.
I was also able to go on the client site very early on at AMCO which was both exciting and a little bit scary – as a consultant, it's incredibly important to present yourself well.
It was the perfect amount of responsibility, as it gave me that push to do better, without feeling like I was out of my depth at any point. I was also fortunate to have the backing of a good team when I did need help.
How does AMCO support the career progression of graduate trainees throughout and once they complete the program?
The support I received as a trainee was incredible – both structured and unstructured. From the beginning, I had weekly 1-2-1s with my manager where I had the opportunity to share any feedback, whether positive or constructive. AMCO also organised a monthly, 3-month, 6-month, and an (upcoming) 1-year review to track my progress and create tangible/intangible goals. You are also assigned a "buddy" mentor, who can support you professionally, and more casually.
In addition to this, the team supports a very open line of communication, whereby everyone is highly encouraged to reach out, regardless of how experienced you are, and ask for help whenever needed.
The training doesn't stop once you have progressed to Consultant level. The saying is "The more I know, the less I know" and that definitely is the case here. Whenever I talk to more experienced team members, they reassure me that even they are still learning more every day!
Who has been your biggest mentor or supporter during the program? How did the broader team engage and support you as a young talent?
My manager Joe has been a real propeller in my development. Our weekly catch-ups allowed us to track my progress frequently, to exchange feedback on what we think is going well and what could change, and to create goals which help me stay motivated.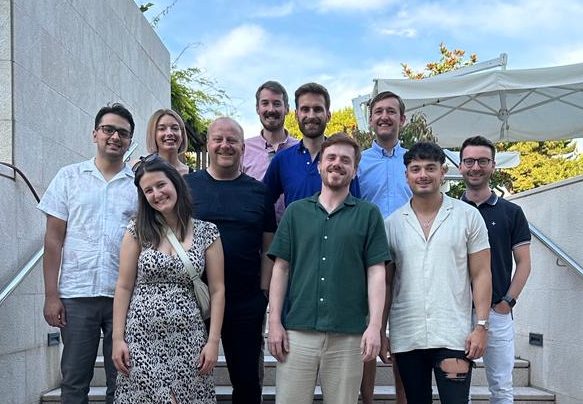 My "buddy" Vera support has been incredible and a real life-saver at times. People tell you that the jump between being a student (something I have identified as for most of my life!) and a newly functioning part of the working world can be a shock and they're absolutely right. It's a big transition and Vera offered a friendly face and reassurance that all my questions and stresses were normal. Coincidentally, my biggest project work so far has been alongside Vera, and she is always willing to help out and explain processes or concepts that I haven't come across yet.
As a whole, everyone in the UK team (and the wider international regions) has provided support that has been fundamental to my development with AMCO. I know I am able to reach out to any single person and know that they will do their best to guide me through any issue.
What qualities or skills do you believe are essential for trainee candidates to succeed in our graduate trainee program?
Without a doubt, you will need to have a strong drive to learn and never stop improving. There's so much information to consume – in those first few months, you really have to be a sponge and absorb as much as possible.
Another key part of any training is the ability to accept failure as a part of the process but just keep trying to solve problems as arise. (Bonus points if you find problem-solving fun!)
Consulting, in general, is best suited to multi-faceted people, before we even throw finance and technology into the mix. To succeed in the graduate trainee program, adaptability is a key skill – after all, on any given day a consultant could find themselves either developing an application for a client, creating marketing materials for a past project, presenting a piece of work to clients, leading training sessions, etc.
Favourite memory at AMCO?
Although I only joined AMCO 9 months ago, I have already had so many great times with the team. We like to organise regular social activities, from Christmas parties to Go Ape adventures to mini golf. One of my favourite moments so far has been meeting everyone from all the European regions at our annual summer conference held in Split, Croatia this year. It was a very funny experience, and it was amazing to finally meet some friendly faces from across the pond in person (not to mention getting to spend some time in the sun by the pool 😊)!
They also organise a ski trip with the European team. Sadly, this year I wasn't able to join, but I will definitely be there next year on the beginner slopes…
In a nutshell, why should other talented young people choose our company's graduate trainee program?
AMCO is a company that really cares about every employee's professional and personal development, as well as their well-being. It is a company where people work hard and are passionate about their work, but also know how to have fun which is the best kind of people to be.
If you have a passion for learning and are looking to start a career in a rapidly-growing industry for a company that provides so many opportunities for growth and responsibility from the get-go, this is the place. An AMCO Consultant has a robust set of skills, but AMCO also encourages different paths – whether you are more inclined towards a more technical role, or more interested in the finance/people side of things.
Finance systems consulting can certainly be challenging, but it is one of the best things I've worked on. The team has been nothing short of incredibly friendly, supportive, and has never made me feel anything but welcome in everything I attended and worked on.
If you would like to learn more about the trainee program and OneStream consulting, please feel free to reach out!
If you would like to ask questions from Nicki directly, here is her LinkedIn. 
Join Us!
​Are you looking to kickstart your CPM / ERP career or want to work on the most prestigious projects across the globe? AMCO is a trusted advisor for some of the world's largest brands and we are always looking for talented people to join our team!
Stronger Together defines the way we work and we believe that growing with our employees defines true success. Be part of the AMCO community!
DISCOVER OUR VACANCIES