From scarce resources to an aging workforce and the war in Ukraine there are many things that are affecting today's economy. Some have a significant impact on wages and other workforce-related costs directly influencing the profitability of products and services. Today's prices are so volatile it calls for professional strategic scenario planning and analysis in order to maintain or improve profitability.
But in order to do, so you have to truly understand the impact of drivers instead of merely focusing on planning on an Account level. People are the most important part of an organization and to understand the profitability, People should be part of that. 
Read on to find out how to improve profitability by mastering People planning.
Why most financials don't know the cost impact of staff on products and services:
Most companies still use multiple applications for reporting, consolidation and planning preventing finance from getting a holistic view. Integrating data has always been a struggle with reconciliation differences, incomplete information and a slow process as a result. If you want to improve profitability by optimizing the workforce this is a serious challenge.
As a finance person you might know the future workforce requirements, but it's difficult to get an accurate view of the current workforce. This is because data from many separate legacy software tools must be combined, which can result in less precise data and sluggish reporting processes.
When it comes to planning FTEs, many finance leaders still struggle with spreadsheets or fragmented software tools that offer little alignment to financial plans, provide limited visibility and cause mis-alignment across the enterprise. Making the right business decisions to improve profitability becomes quite a challenge.
To perfectly align the workforce and strategic plans you need details.  When you combine these two you know precisely when to hire staff and the cost impact that comes with it, optimizing profitability of products and services.
In order to improve the profitability and increase revenue by mastering people planning you need to take four steps: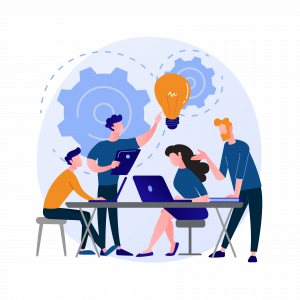 Creating one data model within a single application will take away issues that come with integrations and data flowing between systems (ERP, HR, CPM). Issues like losing data quality and therefore key insights which leads to slow decision making.
Merging multiple data sources into a single application will enable you to accomplish that ultimate goal which legacy software vendors are promising you since the 80's: creating that single source of the truth. There are only a couple of tools that can accomplish this and one of them is OneStream. 
Check out our detailed explanation of a single application
If done correctly it helps you better understand the growth of your business demand and act on that by planning for formation places with respective cost impact and analyzing various scenarios to understand internal and external influence on your business.
Customers we have helped set this up are able to:
Improving Profitability with People Planning​
Looking to ensure your business stays profitable? Mastering People Planning is a key step.
You can't run a profitable business without understanding the drivers of the related costs in order to improve services and products from a people perspective. That's why mastering people planning – especially in today's economy – is essential. 
Mastering people planning will help you perfectly balance your workforce creating a competitive advantage for your company. People planning is widely known, but not well adopted in many organizations. Schedule a free consultation and leave with guidance on the steps to take to adopt People planning.
Watch the full video presentation of AMCO Solutions on People Planning at Schiphol Group.
WATCH VIDEO